The Cactus d'Or Award was created by Princess Grace of Monaco to recognize distinguished members of the IOS for their outstanding contributions towards the knowledge of succulent plants. Princess Grace presented the award for the first time in 1978, and since then it has been granted 17 times. The IOS Executive Board makes nominations for this prestigious prize.
Recipients of the Cactus d'Or Award
(Readers wishing to obtain bibliographic and further information on the recipients of the Cactus d'Or Award are asked to see the list of references to download a PDF file).
1st. Prof. Dr. Werner H. Rauh, Germany (1978)
(Niemegk 1913 – Heidelberg 2000)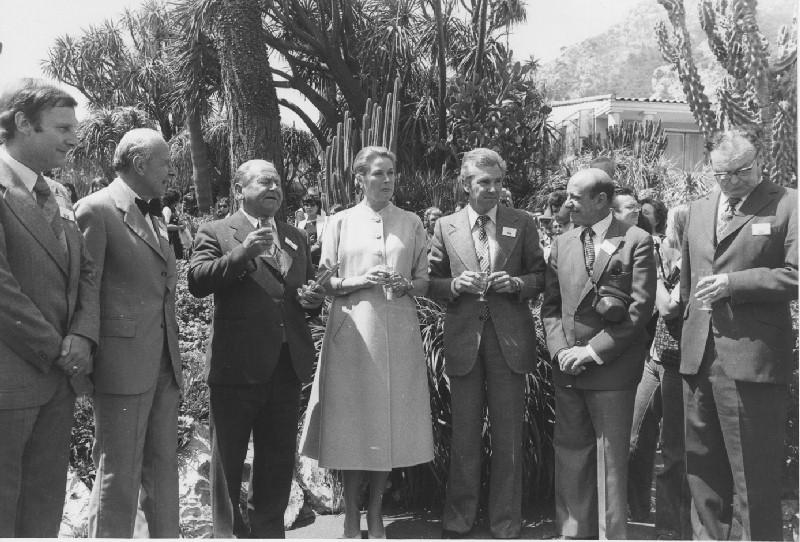 Celebration of the first Cactus d'Or awarded to Prof. Dr. W. Rauh at the Jardin Exotique in Monte Carlo. In the center the late Princess Grace. From left to right: D. Supthut, H. Friedrich, W. Rauh, Princess Grace, M. Kroenlein, H. Sanchez-Mejorada, J. D. Donald.
2nd. Dr. Helia Bravo-Hollis, Mexico (1980)
(Mexico City 1901 – Mexico City 2001)
3rd. Mr. Gordon D. Rowley, Great Britain (1982)
(born London 1921 – )
4th. Dr. Lyman D. Benson, United States of America (1984)
(Kelseyville, Cal. 1909 – Portola Valley, Cal. 1993)
5th. Mr. Leslie Charly (Larry) Leach, Great Britain (1988)
(Southend-on-Sea, Essex 1909 – Pietersburg, South Africa 1996)
6th. Mr. Walther Haage, Germany (1990)
(Erfurt 1899 – Erfurt 1992)
7th. Dr. George E. Lindsay, United States of America (1992)
(Pomona, Cal. 1916 – Tiburón, Cal. 2002)
8th. Prof. Dr. Hans-Dieter Ihlenfeldt, Germany (1994)
(born Kiel 1932 – )
9th. Mrs. Susan Carter-Holmes, Great Britain (1996)
(born 1933 – )
10th. Dr. Edward (Ted) F. Anderson, United States of America (1998)
(Covina, Cal. 1932 – Phoenix, Ariz. 2001)
11th. Dietrich (Dieter) J. Supthut, Switzerland (2000)
(1935 – 2015)
12th. Prof. Dr. Wilhelm A. Barthlott , Germany (2002)
(born Forst, Germany 1946 – )
13th. Prof. Dr. Gideon F. Smith, South Africa (2004)
(born Uitenhage, Easter Cape Province 1959 – )
14th. Dr. David R. Hunt, Great Britain (2006)
(born England 1938 – )
15th. Prof. Dr. Len E. Newton, Great Britain (2008)
(born 1936 – )
16th. Mr. Myron W. Kimnach, United States of America (2010)
(1922 – 2018)
17th. Dr. Heidrun (Heidi) E. K. Hartmann, Germany (2012) (1942 – 2016)